NEW ORLEANS "THE BIG EASY"
3 DAYS / 3 NIGHTS
This page is the Day 2 continuation of the New Orleans 3 Days / 3 Nights first time visit travel itinerary.
DAY 2: Garden District and frenchmen street
The Day 2 itinerary focuses on some less rowdy and more local New Orleans scenes. But don't worry though, if partying is still on your mind, there is plenty of it where you're going.
Day 2 Itinerary: GARDEN DISTRICT AND FRENCHMEN STREET
1. RIDE TO THE GARDEN DISTRICT
3. LUNCH IN THE GARDEN DISTRICT
4. WANDER DOWN MAGAZINE STREET
1. ride TO the garden district
At this point, if you followed the Day 1 itinerary to a "T," then you've only been in the French Quarter of New Orleans. Therefore, you still have much more to learn, smell, taste, and see. After breakfast, take an Uber, Lyft, Taxi, or the New Orleans Street Car to the Garden District for some more southern culturin' (yeah...that's a word now). To be exact, we suggest riding over to the corner of Magazine Street and Washington Avenue to start your Garden District excursion. An Uber shouldn't cost more $7-$10 one way and the street car is $1.25 one way per person.
Note, if you are taking the street car, ride it until the Saint Charles Avenue and Washington Avenue stop. The Street Car runs all over the city so make sure to check the schedule and map to see what station is closest to you (check out the street car schedule and map here.)
2. Garden district and magazine street
Wander Through The Garden District
Ever hear about the beautiful mansions nestled in New Orleans? If so, then you've likely also heard about the Garden District, which hosts some of the best preserved, still lived in, elegant homes in the Southern United States. Starting at Washington street (with cross street of either Saint Charles or Magazine), walk toward Lafayette Cemetery #1. Take one of the side neighborhood streets and begin exploring. You'll find, pretty quickly, that it's amazingly easy fall in love with this neighborhood after experiencing the charming calm and peacefulness that saturates the Garden District. Insider Tip: Garden District Walking Tours tend to focus primarily on the area bordered by Washington Avenue, Saint Charles Avenue, Jackson Avenue, and Magazine Street. Some mansions of interest include Sandra Bullock's New Orleans residence (2627 Coliseum Street) and The Buckner Mansion, which was featured in American Horror Story (1410 Jackson Avenue).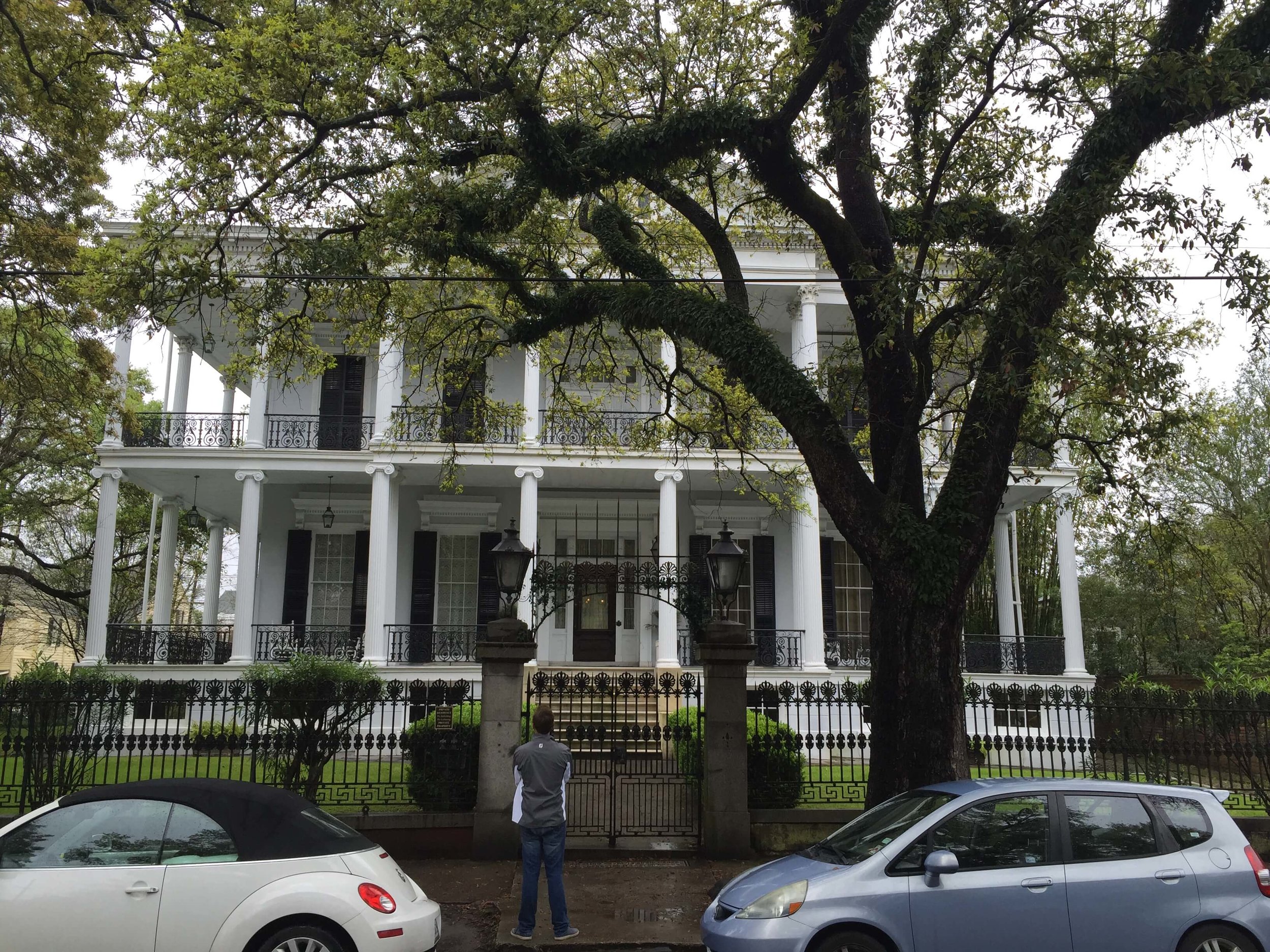 We'd also suggest adventuring down Magazine Street or through Lafayette Cemetery #1. Historically significant graves and picturesque rows of above-ground tombs make this cemetery a very worthwhile part of your Garden District adventure.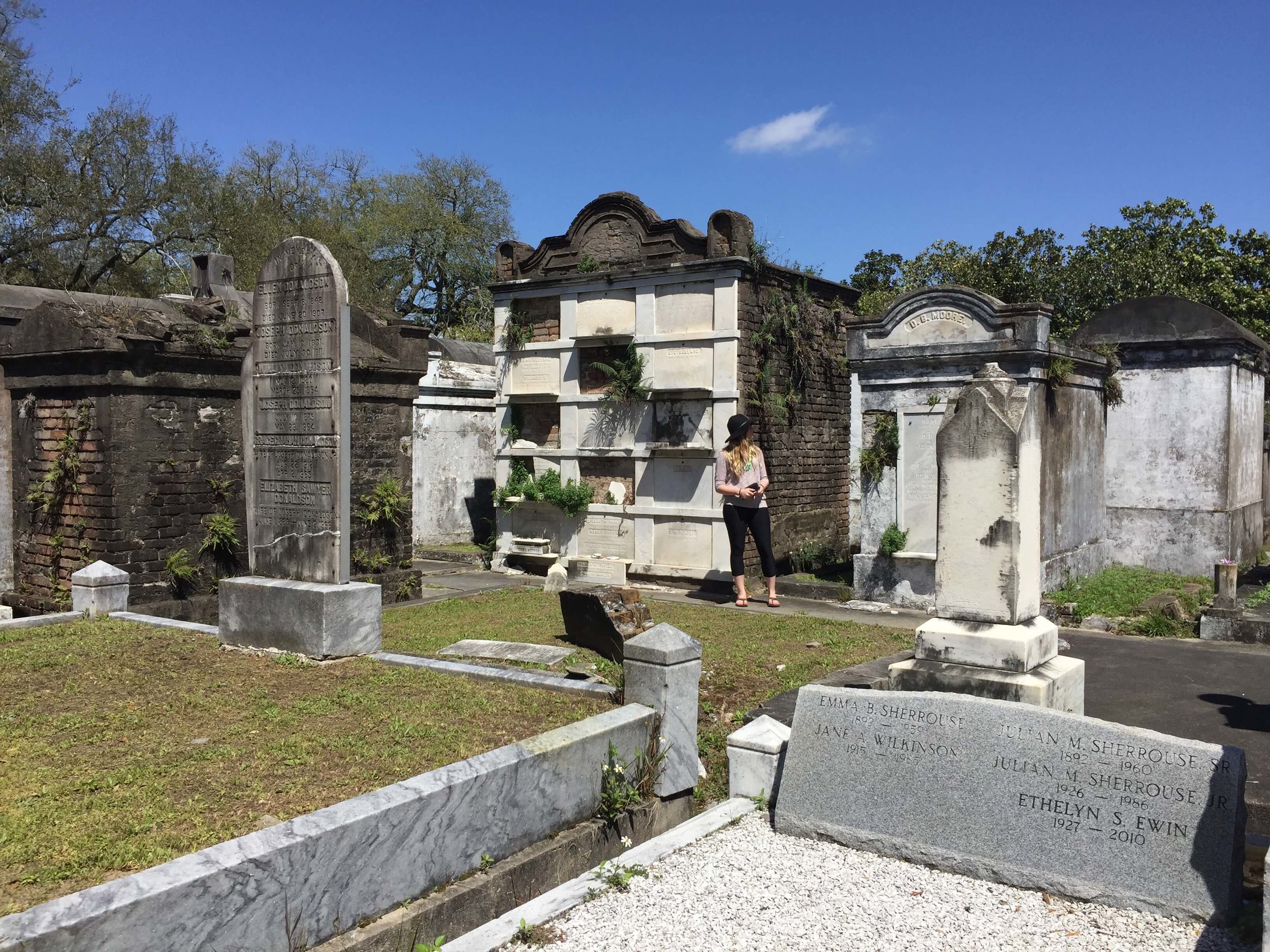 3. LUNCH IN THE GARDEN DISTRICT
The Rum House
Creole/Caribbean Tacos...enough said. The Rum House is an incredibly popular Magazine Street spot for both locals and visitors alike. This is the restaurant we always bring friends to that are visiting New Orleans for the first time and the one that everyone always wants to go back to during future visits. The majority of the menu is Caribbean influenced, featuring savory meat and fresh seafood dishes/tacos as well as an impressive collection of rums and mixed drinks. Despite all the meat options, there are some vegetarian dishes too. There are also plenty of gluten-free options. Check out The Rum House menu on their webpage for more information. PS: if you happen to be in New Orleans on a Tuesday, it will be Taco Tuesday at The Rum House and all the tacos are only $1!
Commander's Palace
One of the most well known and high-end dining experiences in New Orleans can be found right in the heart of the Garden District, one block away from the famous Lafayette Cemetery #1 (and only three blocks from the Hop-On, Hop-Off Bus Stop). Commander's Palace, established in 1880, serves award-winning Haute Creole dishes, delicately crafted and perfected by world-renowned chefs. Note: reservations are usually required and the dress code is strict. For more information about Commander's Palace and their menu checkout their website.
4. Wander down magazine street
One of the most famous and bustling thoroughfares in New Orleans is Magazine Street, lined with shops restaurants, bars, and art galleries. It isn't uncommon to see celebrities, local and visiting, work their way through Magazine's many boutiques.
Starting at Washington and Magazine, you will find plenty to do in either direction. However, we suggest heading West on Magazine (away from the French Quarter), poking through the small boutique shops and art galleries. Also in this direction, you will find some of our favorite New Orleans bars and restaurants. For a nice biergarten (beer garden) feel, check out The Bulldog. If you would like to sit above the street on one of those picturesque balconies (fun fact: actually called a "gallery"), we suggest you go to the conveniently named Balcony Bar.
5. a night out ON FRENCHMEN STREET
Take a cab, Uber, or walk through the French Quarter (assuming that's where you're staying) to spend your second evening on Frenchmen Street in the Marigny.
Frenchmen Street
Frenchmen Street was the birthplace of Jazz and Blues! Most people come down to New Orleans, gearing up for live music (specifically Jazz in mind) but end up getting particularly caught up on Bourbon Street (understandably so). But, if fantastic live music of all genres (yes...plenty of jazz too) and an awe-inspiring dance scene are what you're searching for, Frenchmen is where-it's-at. Frenchmen is a much more local scene compared to to Bourbon, and true New Orleans culture can be experienced at a somewhat slower pace. Frenchmen Street is located in the Marigny, one block down river from the French Quarter. We suggest checking out some of our favorite music clubs, such as The Spotted Cat, 30/90, and Maison.
Dinner on Frenchmen
Dinner and Music at Maison (Kid-Friendly Before 10pm)
Maison is one our favorite music clubs in New Orleans. They have live music every night of the week, and in our personal opinion, usually have some of the best bands playing on Frenchmen at any given time. Their Dinner and Jazz Reservation Package, though a little pricey ($35), is well worth it as it kills a couple birds with one stone: Dinner (and one specialty drink) per guest, reserved front row seating, and live Jazz music. Now that it's all written out, it actually doesn't sound that expensive. The part that makes it seem expensive...you could go to Maison and listen to music for free (probably wouldn't get a table)...but you gotta eat eventually don't you? Regardless of whether you eat at Maison or not, make sure to stop by at some point during the night and listen to a set.
Marigny Brasserie (Also Kid-Friendly)
We like recommending the Marigny Brasserie for a few reasons: (1) It's on Frenchmen Street. So, if sitting outside, you can enjoy the bustle and hum of music around one of New Orleans' favorite nightlife scenes for locals and guests alike. (2) On weekend nights, they have live music so you can eat your meal and get a show too. (3) The menu is full of classic New Orleans eats, which we assume is one of the main reasons you're visiting. Since the Marigny Brasserie is on one of the most popular streets in New Orleans, the wait can be a little long at times. We suggest making a reservation in advance if you want to eat here during peak hours.
Frenchmen Art Market
While on Frenchmen Street, make sure you walk through the Frenchmen Art Market. Many of the best artists in New Orleans live in the Marigny and Bywater (adjacent neighborhood, opposite direction from the French Quarter) and showcase their art, crafts, and jewelry at this open-air market. The market is open every night of the week and is always festively decorated. Fun tip, this is a great place to take a break since there are benches, tables, and chairs set up and ready for you. Take a load off, listen to the music bursting from the Frenchmen clubs and enjoy the artistic atmosphere.