bachelorette party In new orleans
Gather up your ladies and brides-to-be and head over to New Orleans for a crazy and lazy and yummy and saucy bachelorette party. New Orleans is a terrific destination for all things regarding bachelorette parties, no matter the time of year. In fact, there is even a bar on Bourbon Street claiming to be the "Bachelorette Headquarters" (Channing Tatum's Saints and Sinners bar). Anyway, here are some ideas for how to do a Bachelerotte Pary right in New Orleans.
Day 1: French Quarter and nOLA bREWERY tOUR
Exploring and Shopping in the French Quarter (Morning)
What's great about the French Quarter is that it's practically made for bachelorette parties. The buildings, with balconies covered in hanging plants, a fascinating fusion of European-Caribbean-Southern vibes, and cute shops ranging from chocolate to fashion to voodoo, provide a romantic flare. Meanwhile, the bars and restaurants on every corner and legality of drinking on the go spice up every moment with an underlining sense of partying and celebration.
Some French Quarter Tips:
Definitely visit Café Du Monde, the most famous beignet coffee shop in New Orleans.

Wander through the French Market, which is essentially 6 blocks of open air shops, showcasing local and foreign crafts, clothes, accessories, etc.. The French Market begins only 1 block from Café Du Monde.
For more ideas about what to do in the French Quarter, check out our 12 Best Things to Do in the French Quarter article.
NOLA Brewery Tour in the Afternoon (3001 Tchoupitoulas Street)
After exploring the French Quarter in the morning, make your way to NOLA Brewing Company for a quick brewery tour and BBQ lunch in the NOLA Brewing Tap Room. Tour Details:
Tour Times: multiple tours on Fridays (2-3pm) and Saturdays/Sundays (2-4pm)

Tour Price: FREE

Length: 15-30 minutes

Complimentary Beers: 2!!! (on Fridays only)
Night 1: Burlesque Dance Class and Bourbon Street Bar Crawl
Burlesque Dance Class (NOLA School of Burlesque - 830 N Rampart Street)
Time to get your bachelorette party feeling saucy and sexy before a wild night out on Bourbon Street! We suggest booking a private burlesque class with NOLA School of Burlesque. Private classes can be booked for about $30 per person by emailing them (nolaschoolofburlesque@gmail.com).
Bourbon Street
Now that Team Bride is feeling warmed up and wild, it's time to hit the notorious Bourbon Street, the most insane party in the Southern United States. For an epic time on Bourbon, check out our Bourbon Street Bar Crawl article.
Here's the Bourbon Street breakdown:
0.6 miles (From Canal Street to St. Philip Street) lined with Bars, Restaurants, Dance/Music Clubs, Strip Clubs, and some shops.

The party is just as much in the street as in the bars (almost all bars serve drinks in to-go cups so you can have your drink as you walk).

At night, cars are not allowed to drive down this street as the traffic of people is too thick (this is not the place to go on a weekend night if you do not like crowds).

Many bars have balconies and galleries, great for viewing the street from above...and truly take in the madness occurring on the street from a bird's eye view.

Very few bars (not strip clubs) have a cover charge to get in.

No dress code. People will range from suit/tie and cocktail dresses to t-shirts and shorts. It all depends on what look you're feeling that night.
Day 2: Rooftop Pool and Swamp Tour
Alto Rooftop Pool and Bar (Ace Hotel - 600 Carondelet Street)
Let's face it...on the morning after a big night on Bourbon Street, your bachelorette party is probably going to be hungover. This is the perfect time to take in New Orleans at a slower pace. Head to the Ace Hotel for some morning cocktails while relaxing poolside with great city-scape views. No reservations required! Just show up. More information can be found on their webpage.
Airboat Swamp Tour in the Afternoon
Once the hangover subsides, you'll be ready for the next adventure of your bachelorette party - airboat swamp tour. Airboat tours are incredibly exhilarating as you whip around the swamps and bayous at top speeds. Imagine Tokyo Drift, but while searching for alligators...yeah, it's that cool. And if you didn't grow up near a swamp-like habitat, you might find it fascinating to know that there is no shortage of alligators! You can pretty much guarantee spotting a few of these prehistoric beasts between the months of March through October. But...they do the alligator equivalent to hibernation (called brumation) during the cold months and remain underwater for most of the time. However, if your bachelorette party does happen to be between November-February, riding an airboat, exploring swamp/bayou/marsh terrains, and observing the other wildlife species in the area is still an awesome experience.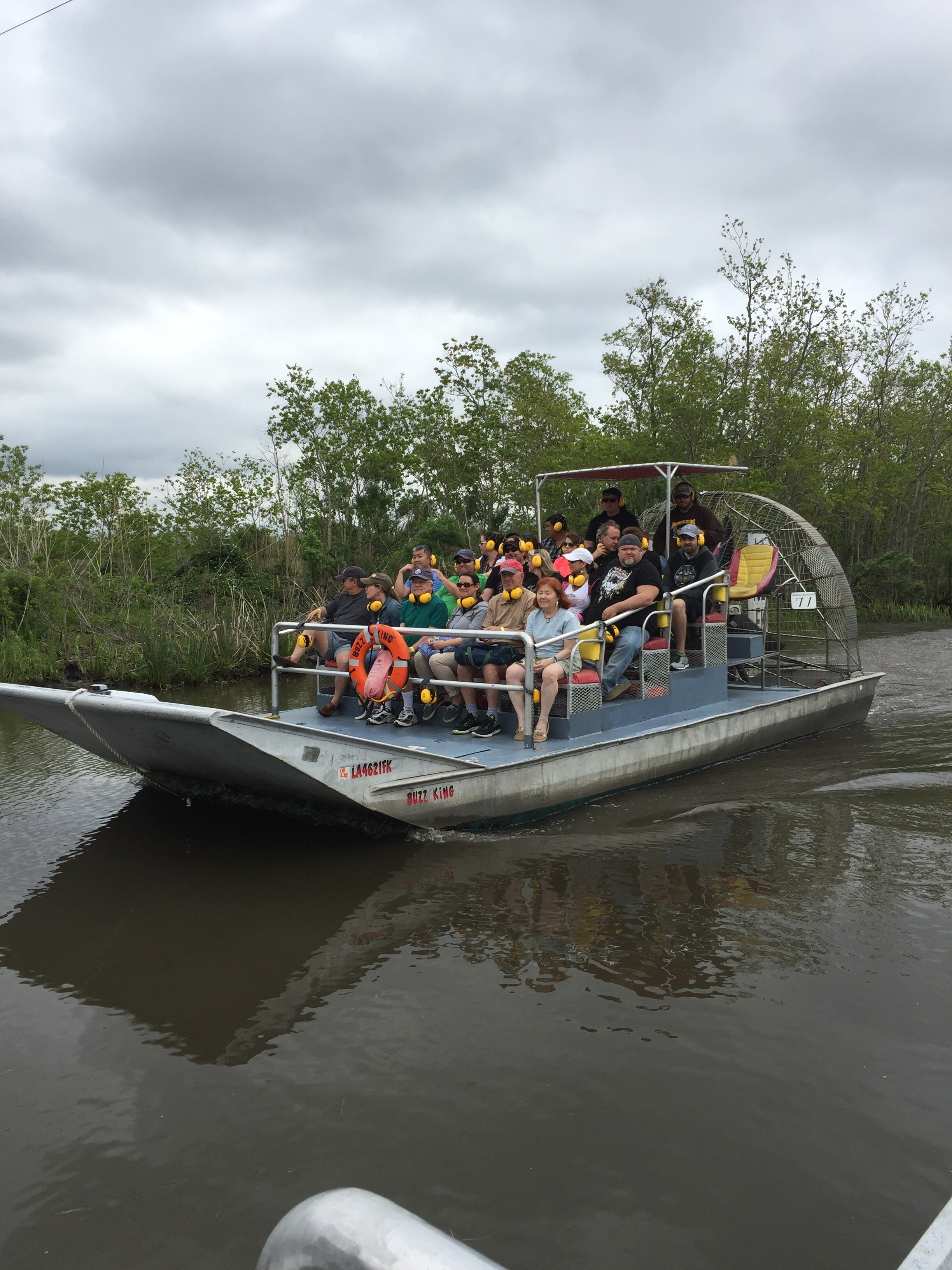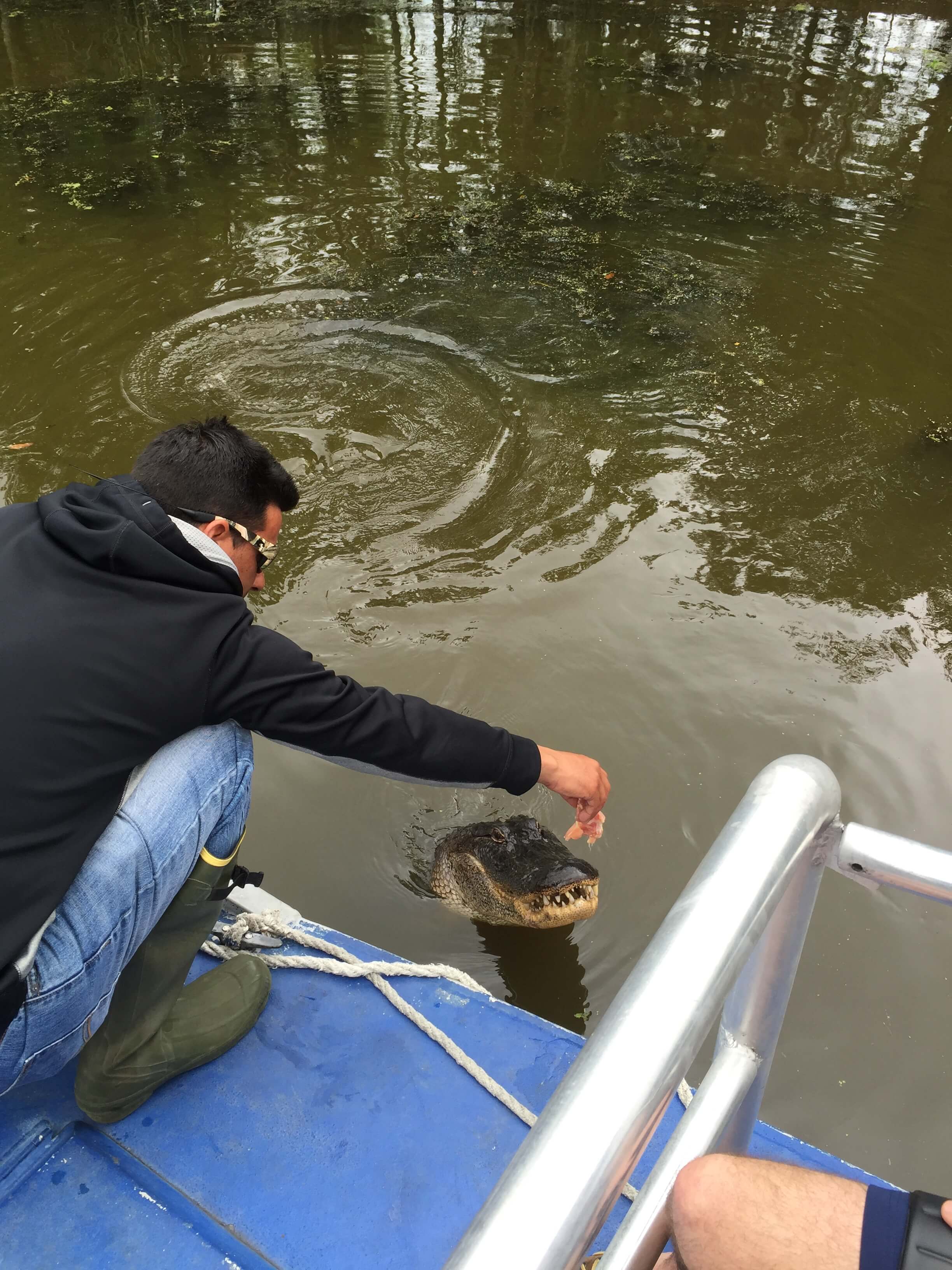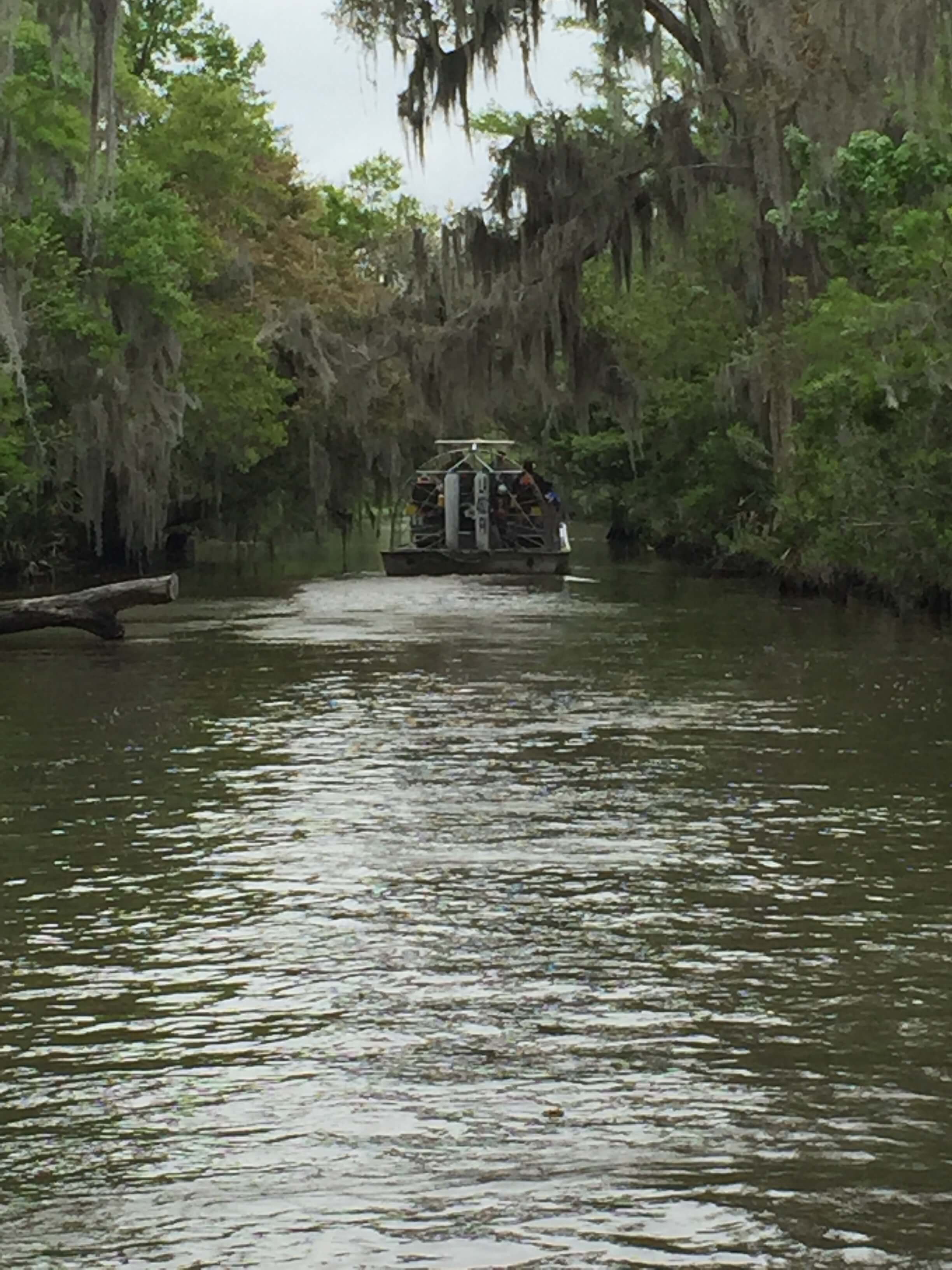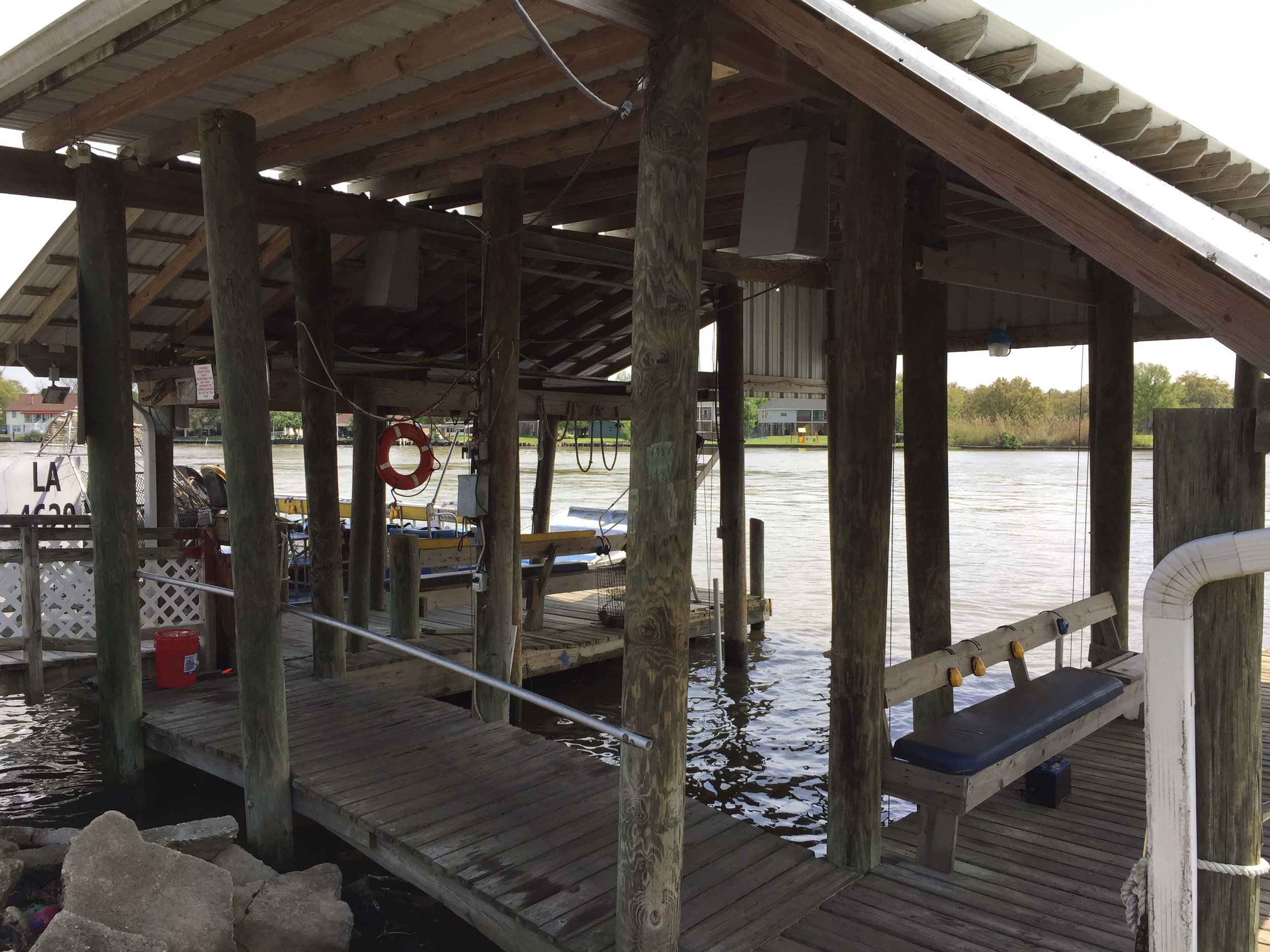 When choosing a tour, we'd suggest going with the 15 to 25 passenger airboat option over the 6 to 8 passenger airboat to save a couple bucks. Because the airboats are set up with bleacher seating, it really doesn't make a difference in terms of what you hear or see. Total round trip (leave your hotel / arrive back at your hotel) is 4 hours so you may want to eat a hearty breakfast. Tickets for swamp tours generally run around $39 - $95 (depending on size of airboat you choose and whether you drive yourself or get picked up from your hotel). Because of the hefty price, if you're going on a Swamp Tour just because you really want to see alligators, it may not be worth it November - February. March - October is usually smooth sailing on the alligator watch though.
Night 2: Burlesque Show and Frenchmen Street
Burlesque at House of Blues (225 Decatur Street)
Now that your crew has learned the basics of burlesque, its time to see how the pros rock it! Also, here's an opportunity to knockout two birds with one stone: (1) classic bachelorette party item and (2) witness a famous NOLA art form. Aside from live music, burlesque is one of the most notorious theatrical arts New Orleans has made a tradition of. The best Burlesque shows in the Crescent City are accompanied by a live band, usually playing upbeat Jazz and Blues, as well as a hodgepodge of other talented musicians, singers, stunt people, magicians, and really anything...sometimes Burlesque shows can even seem a little circus-like.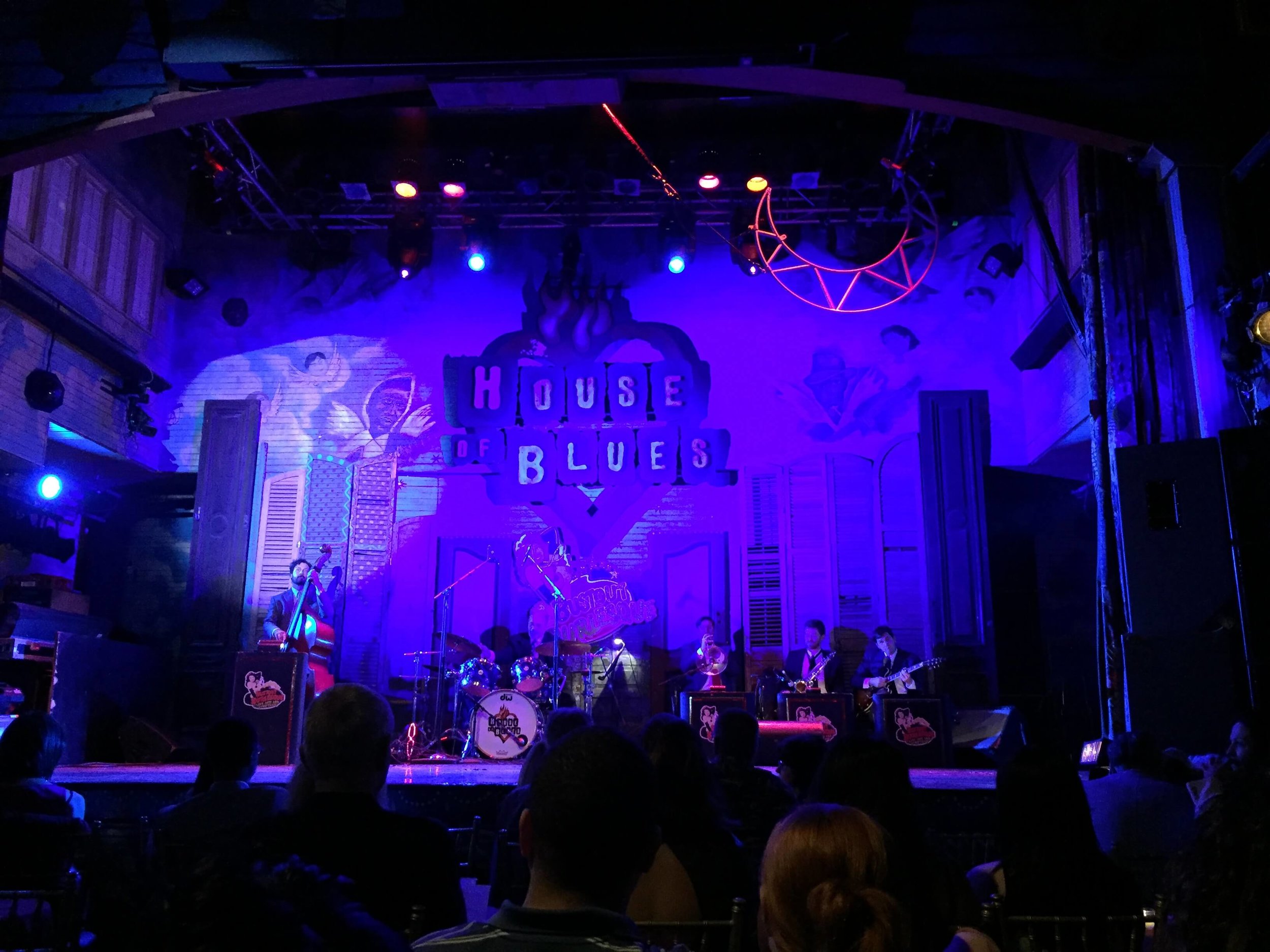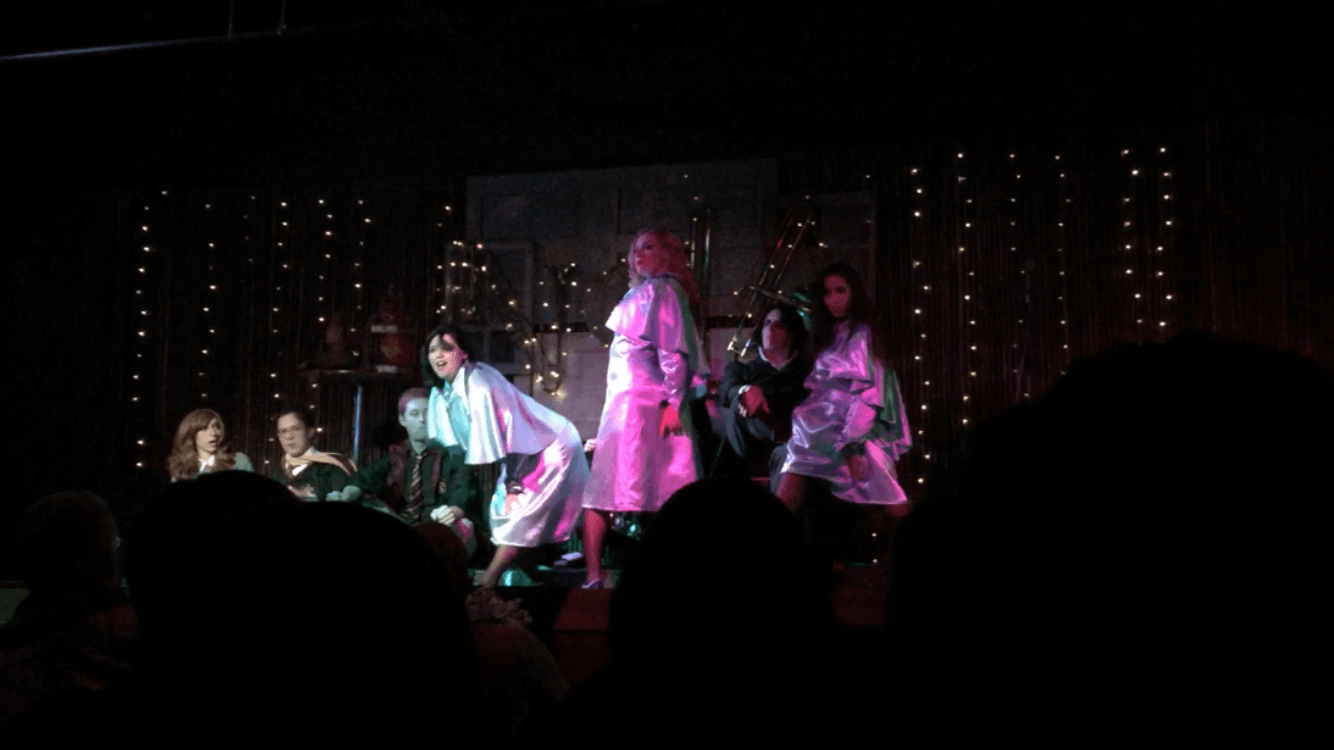 Probably the best productions of Burlesque are put on by Bustout Burlesque at the House of Blues (which is an awesome French Quarter venue in general if you're looking for a show). Another great demonstration of Burlesque is put on by the Fleur de Tease, which has shows at a variety of venues city-wide each week. Showtimes are mostly on FRIDAY AND SATURDAY NIGHTS so some rearranging of this itinerary may be necessary depending on what days you're in town. Tickets are generally between $15-25.
Live Music on Frenchmen Street
After some burlesque make your way (or stumble...whatever you prefer) over to Frenchmen Street.
Frenchmen Street is well known for being the birthplace of Jazz and Blues and there isn't any lack of it in the 17 music clubs featured on this street. Also, if the ladies in your bachelorette party enjoy swing dancing, or dancing in general, Frenchmen hosts an awe-inspiring dance scene that's both incredibly fun to partake in and even just witness. Though tourist friendly, Frenchmen is a much more local scene compared to to Bourbon, and true New Orleans culture can be experienced at a somewhat slower pace. Some Frenchmen Street music club favorites include The Spotted Cat, 30/90, and Maison.
Late Night Munchies Tip (on Frenchmen): Go to Dat Dog. Not only does it have a bar inside, but you can also get CRAWFISH SAUSAGE, or alligator sausage, or whatever kind of sausage you want.
Frenchmen Street is located in the Marigny, one block down river from the French Quarter.
Hope y'all have a fabulous time! Shoot us an email if you want any specific advice.
Like and Follow First Time Visiting On Social Media!