NEW ORLEANS "THE BIG EASY"
2 DAYS / 2 NIGHTS
Day 1 | Day 2
2 Days and 2 Nights, huh? Our initial guess is that means you're coming to New Orleans for a weekend trip, which is a fantastic decision! Pair that with some great weather and a passion for festivity and you'll literally be in Heaven-On-Earth. Likewise, if you're coming to The Crescent City mid-week, our itinerary below will still be a blast, and perhaps without the crowd.
Day 1 Itinerary Outline: FRENCH QUARTER
3. LUNCH IN THE FRENCH QUARTER
4. POKE AROUND THE SHOPS ON ROYAL AND CHARTRES
6. DINNER IN THE FRENCH QUARTER
Note: this itinerary doesn't contain the city bus tour, French Quarter walking tour, or Garden District walking tour. If you're interested in guided tours, check out our 2 Days / 2 Nights with Tours Itinerary.
Day 1: the French Quarter
The French Quarter (and really New Orleans in general) is one of the most unique places in the United States (if not the most). Imagine the Caribbean meets Las Vegas meets Disneyland....that's the French Quarter.
1. BREAKFAST AT CAFÉ DU MONDE
Okay...we know you've heard about Café Du Monde...we know from the minute your friends told you about the famous beignet restaurant, your mind started racing through the splendor of sitting in this French style cafe with the iconic green and white striped canopy top and you decided that you had to go.
Word of advice: Don't be intimidated by the long line as it moves quite fast. What looks like it should be an hour wait, usually takes only 10-15 minutes (some how?!). Also, if you don't want to sit in the restaurant and just want to taste what all the fuss is about, there is a separate line for "to-go" orders.
Insider Tip: Really just hate lines but still want to try a beignet? You could just walk two blocks away to Cafe Beignet New Orleans, which never has a line, has outdoor (and indoor) seating, and even a green and white striped banner to help you truly believe you're actually at Café Du Monde.
2. EXPLORE around jackson square and saint louis cathedral
Once you've had an ample fix of beignets and all that sugar starts rushing through your body, you'll probably be ready to burn some energy...And what better way to expend said energy than by exploring the mecca of Louisiana culture and chaos surrounding you in the French Quarter, New Orleans' most popular and exciting neighborhood. We suggest you start right where you are, at Jackson Square.
Crescent City Art
If the weather is good, walk around Jackson Square and check out the local artist's work (great if you're looking to invest in some French Quarter and NOLA cultural art as well as caricatures and other art styles). A few artists displaying their art here frequently paint only on re-purposed wood from the homes and structures destroyed by Hurricane Katrina and a portion of their proceeds go to helping local families affected by the storm.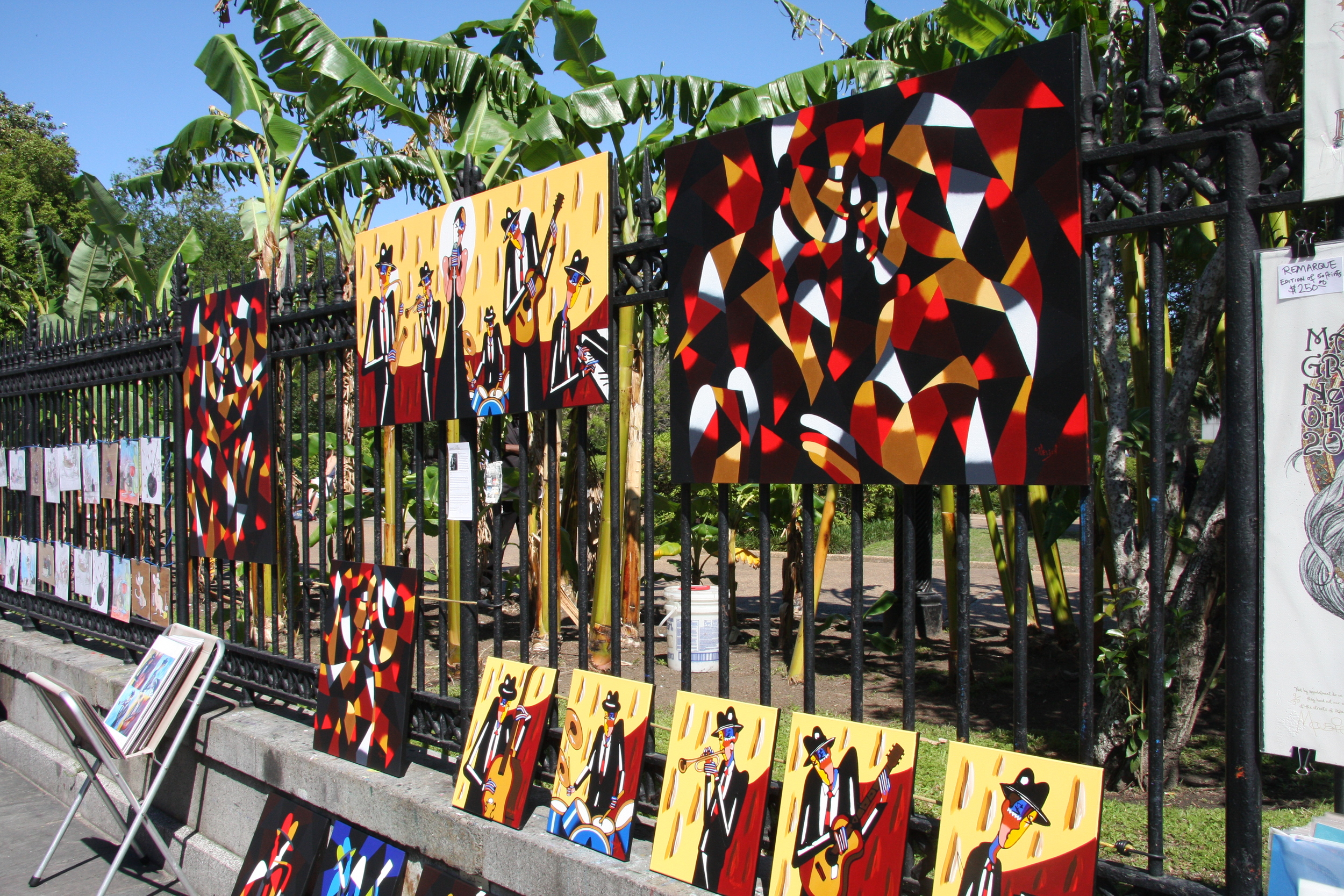 Street Performers
Who doesn't love a good street performance? But seriously, if for some reason you hate street performers, the French Quarter is probably not your cup of gumbo (eeeeeh sorry...) because there are usually a lot of them ranging from dancers, musicians, magicians, poets, and living artists. The whole display has a cool Euro vibe and to be completely honest, some of the best shows you'll see in New Orleans will be on the streets for free...or whatever you tip them.
Palm Readers and Fortune Tellers
New Orleans has a very spiritual scene. It is a fact...and is apparent by the voodoo culture, hex shops, and many ghost tours. So it seems only fitting that plenty of Fortune Tellers, Palm and Tarot Card Readers would set up shop in this town. If you're ready to have your destiny unveiled, you need not look further than right in front of Saint Louis Cathedral, where most weekend days, a dozen or so of these spiritual tellers have been waiting for you.
$3 off each New Orleans City Sightseeing bus pass when you use promo code FTVNOLA at checkout.
The Presbytère Museum
If the weather isn't great or if you have some extra time or if you enjoy museums, we'd highly suggest the Presbytère, located adjacent to Saint Louis Cathedral. This museum has two permanent exhibits:
Mardi Gras - The history and celebration surrounding New Orleans' most popular festival.

Living with Hurricanes: Katrina and Beyond - This extensive exhibit illustrates the events leading up to and during Hurricane Katrina and the aftermath of this colossal storm.
Tickets are cheap too! $6 for adults; $5 for students, active military, and senior citizens.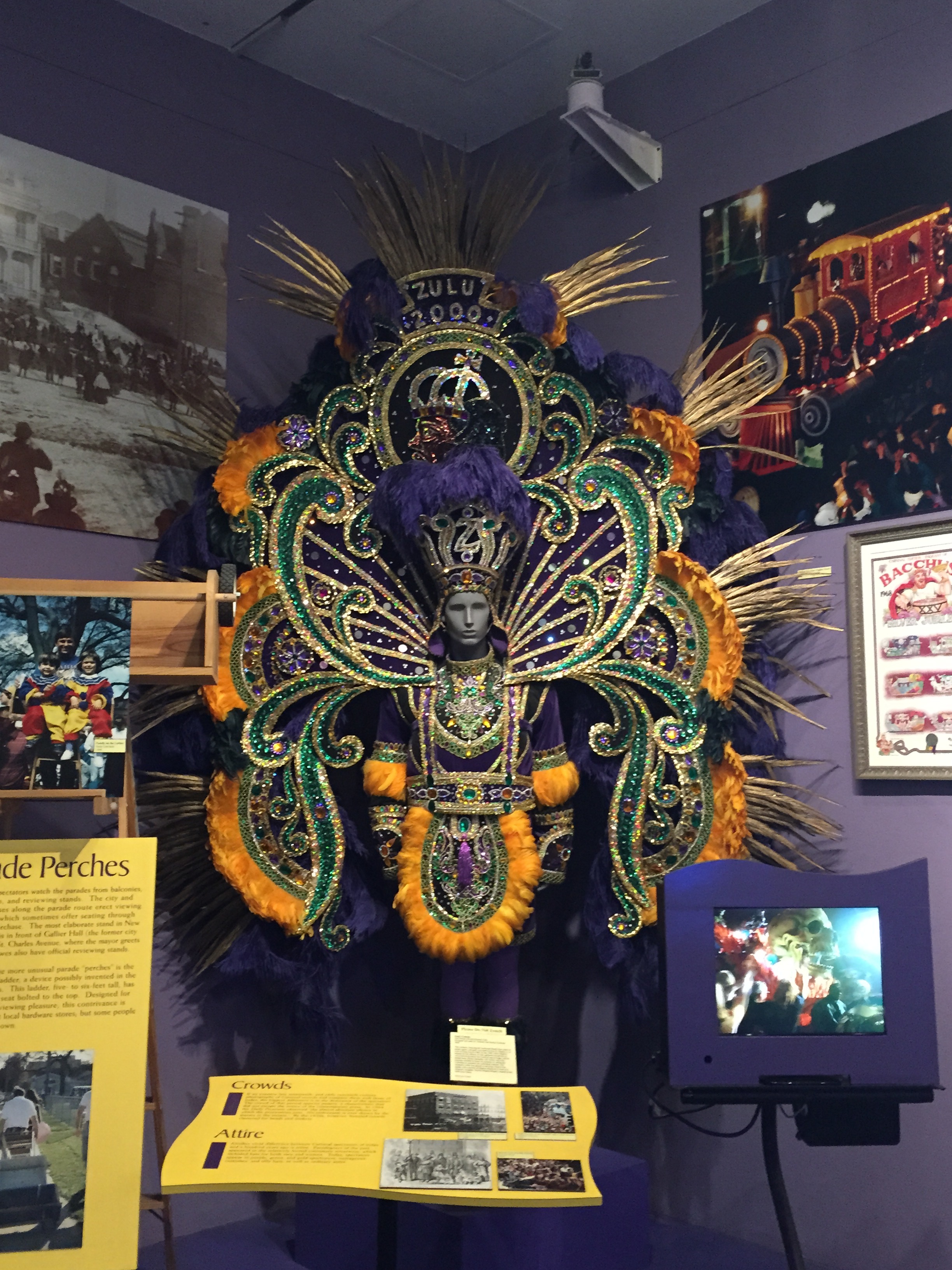 3. LUNCH IN THE FRENCH QUARTER
Pretty much anywhere you go in the French Quarter is going to serve your traditional New Orleans cuisines (gumbo, jambalaya, po-boys, oysters, alligator sausage, red beans & rice, etc...). But, we recommend the following two restaurants.
Napoleon House
Napoleon House offers beautiful courtyard (or indoor) seating and delicious NOLA eats in an early 1800's home built to be the safe haven for refugee Napoleon Bonaparte, the exiled French Revolution military leader of France. Beyond the unique wall art, historic feel, and peaceful courtyard, the best part...the menu is reasonably priced! Check it out here. Also, if you're interested in enjoying a drink while at Napoleon House, make sure to the try their famous Pimm's Cup.
Coop's Place (must be 21 or older)
The Coop's Place staff have perfected the balanced mixture of Southern Hospitality and Crescent City roughness that has made New Orleans the city it is today. Here, you can find classic New Orleans eats while enjoying a NOLA twist on a pub-style restaurant. Check out the menu here.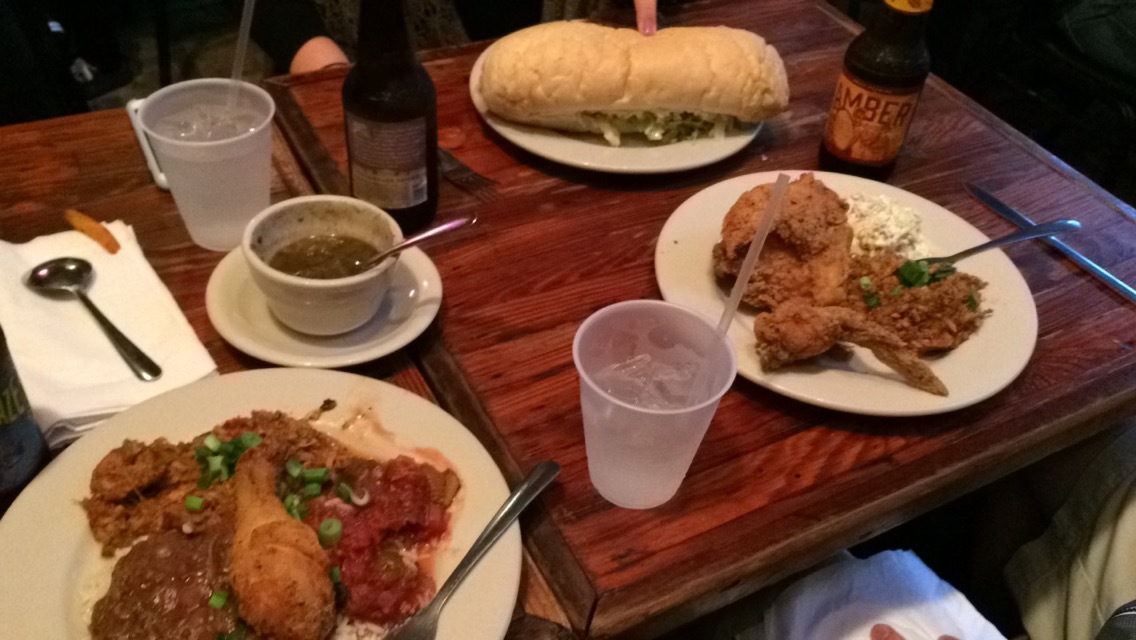 4. Poke Around the Shops On Royal and Chartres Street
Lining these two streets are a plethora of shops and art galleries, ranging from voodoo and hex shops to praline and candy stores. This would be an excellent chance to pick up some New Orleans swag to take home for family and friends or memorabilia for yourself. As with Jackson Square, you're quite likely to catch some street performers and artists on these streets. Don't forget to look up occasionally though. The balconies and architecture found on these streets can be particularly beautiful, especially with the overhanging patio gardens that are common to the area.
5. The French Market
Make sure you walk through the French Market. This open air market provides 6 blocks of shopping, bringing together merchants, local and foreign, to showcase their crafts, passions, and trades.
6. Dinner In the french quarter
Assuming that you didn't go to both restaurants recommended for lunch, we'd suggest you go to either Napoleon House or Coop's Place. Napoleon's entrees lend themselves better for a lunch meal than dinner. Whereas, the Coop's Place menu contains more classically dinner plates. But, if you're if the mood for a Muffuletta and Pimm's Cup, Napoleon House is the place to be.
Other Restaurant Options
Sobou (Date Night Spot)
Though fairly pricey, Sobou has an exceptionally romantic vibe and particularly interesting interior style. If $30-$50 meals aren't your thing, but still want to experience Sobou's atmosphere, there's nothing wrong with stopping in for an appetizer and glass of wine. Check out the Sobou Menu.
ACME Oyster House (Our Take On It)
ACME Oyster House is one of those "Big Line" restaurants that will catch your attention if walking down Iberville Street toward or away from Bourbon Street. Though the food is good, it's not necessarily worth the wait. Here's a little tip about the French Quarter: pretty much every restaurant is serving the exact same thing. So if its Red Bean and Rice, Gumbo, Jambalaya, Fried Catfish, Andouille Sausage, a shrimp Po Boy, or whatever seafood platter you want, we'd suggest you turn around (if in front of ACME Oyster House), cross the street, and go to Felix's Restaurant and Oyster Bar. There's rarely a line and the menu contains all the classic Cajun/Creole eats your heart desires. Compare the ACME Menu to Felix's Menu. The point is, you really can't go wrong with any restaurant in the French Quarter if you're looking for Cajun/Creole Cuisine.
Those born and raised in Southern Louisiana will tell you that no restaurant compares to true Cajun or Creole home cooking though. So if you know a resident, try convincing them to feed you!!!
7. Nightlife in the french quarter
Bourbon Street
Looking to party? Or do you just want to see nightlife chaos? Probably the most well known (or at least, most heard about) place in New Orleans is Bourbon Street. Here's the Bourbon Street breakdown:
0.6 miles (From Canal Street to St. Philip Street) lined with Bars, Restaurants, Dance/Music Clubs, Strip Clubs, and some shops.

The party is just as much in the street as in the bars (almost all bars serve drinks in to-go cups so you can have your drink as you walk).

At night, cars are not allowed to drive down this street as the traffic of people is too thick (this is not the place to go on a weekend night if you do not like crowds).

Many bars have balconies and galleries, great for viewing the street from above...and truly take in the madness occurring on the street from a bird's eye view.

Very few bars (not strip clubs) have a cover charge to get in.

No dress code. People will range from suit/tie and cocktail dresses to t-shirts and shorts. It all depends on what look you're feeling that night.
For a complete bar crawl experience on Bourbon Street, check out First Time Visiting's Bourbon Street Bar Crawl Article.
Pat O'Brien's
Dueling Pianos! Dueling Pianos? DUELING PIANOS!!! This spectacular bar, located half a block off Bourbon, on St. Peter Street, is one of our favorites in the French Quarter. The pianists take song suggestions from the audience (with a tip of your choice), creating a fantasy-like sing-a-long session with the whole crowd engaged. Basically, this is your chance to sit-back, have a drink or two, and listen (and sing if you'd like) to live covers of today's hits, classic throwbacks, and many other timeless songs with one of the most energized crowds in New Orleans. Make sure you try a Hurricane here. Caution though - can be quite sugary.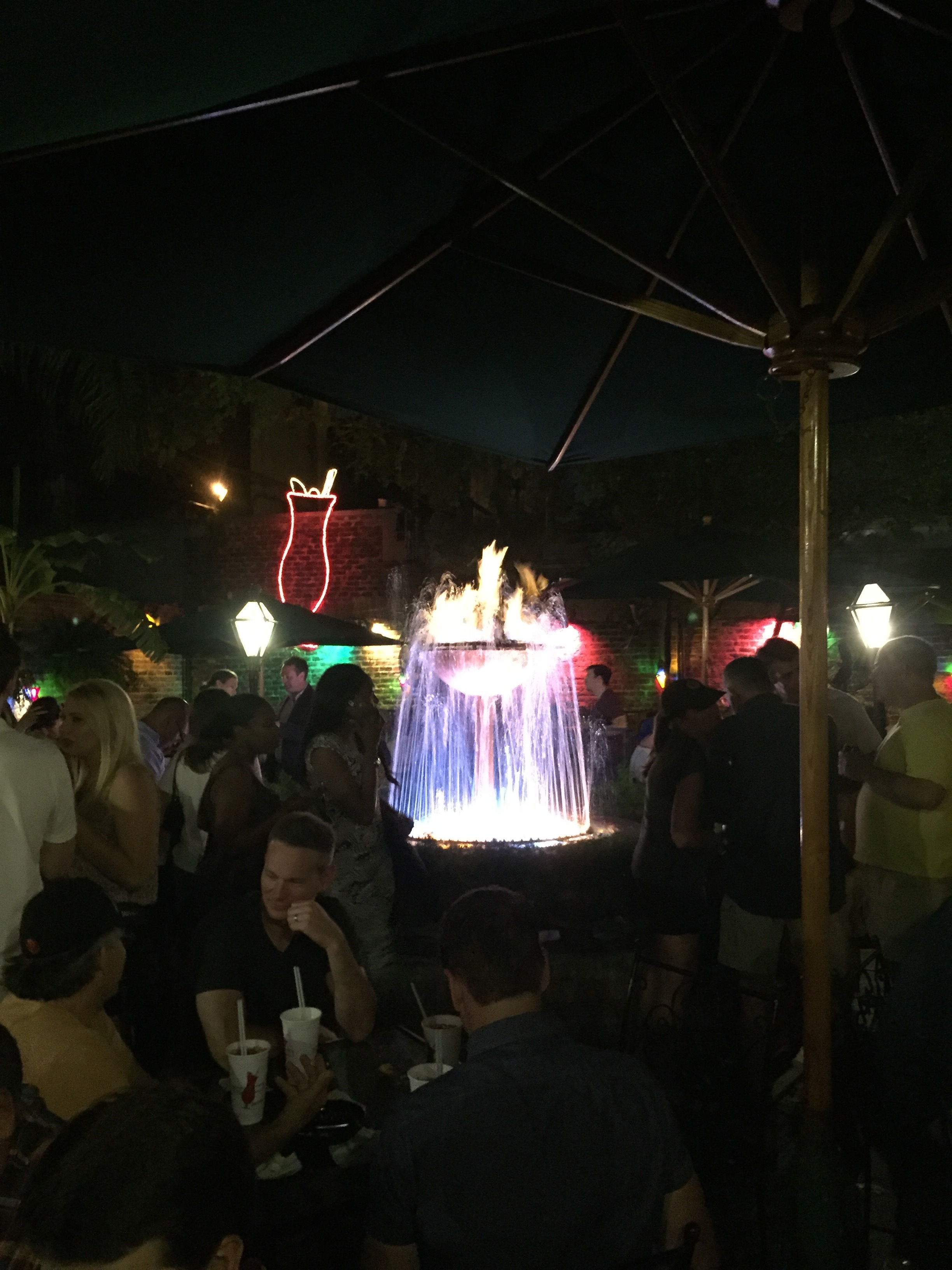 Lafitte's Blacksmith Shop Bar
Located at the end of Bourbon, away from the Canal Street side, Lafitte's Blacksmith Shop Bar boasts the fame of being the oldest structure in the United States used as a bar. The structure was built sometime between 1722 and 1732 and was allegedly owned by Jean Lafitte, the famous pirate and hero of the Battle of New Orleans…trust me, you'll hear about this guy all over the city…he's kind of a big deal.
Like and Follow First Time Visiting On Social Media!